Voice-control of embedded vision AI for IoT and the edge
To do this, it has teamed up with Californian deep learning chip company Syntiant, and is combining Renesas' RZ/V vision AI MCUs with Syntiant's NDP120 'neural decision processor' to get both voice and image processing.
The joint solution is always-on, with quick voice-triggered wake from stand-by to perform object recognition, facial recognition and other vision-based tasks.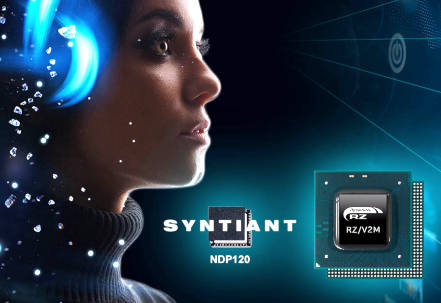 "Using a dedicated, power-efficient chip for voice recognition reduces stand-by power consumption while speeding up system development because it is possible to develop software independently of the vision AI functionality," said Renesas.
RZ/V MPUs include Renesas' DRP-AI (dynamically reconfigurable processor-AI), which is intended to cut power consumption and heat dissipation when inferencing.
NDP120 is built around Syntiant's Core 2 neural network inference engine, developed to cut power consumption during hands-free voice functions such as speaker recognition, keyword detection, wake-on-words and local command recognition. It can operated from as little as 1mW.
Documents including a product brief, circuit diagrams and bills of materials are available
Synyiant's NDP120 is here
0