Toyota, ENEOS to explore hydrogen technology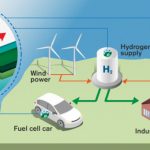 The initiative centres on Woven City, the prototype city of the future that Toyota has started to develop in Susono City, Shizuoka Prefecture.
ENEOS and Toyota intend to conduct testing and demonstration in areas related to a hydrogen-based supply chain, from production, delivery to usage of hydrogen, in and around Woven City.
ENEOS operates 45 commercial hydrogen refuelling stations in the four major metropolitan areas in Japan.
Toyota has invested in hydrogen and fuel cell technology and its popularization through efforts to apply the technology in various mobility including passenger cars, commercial vehicles, industrial vehicles (e.g. forklifts), trains, and ships, as well as stationary generators.
Woven Planet is responsible for the planning of Woven City with Toyota and the following four areas are to be explored by the companies through this unprecedented collaboration:
1) ENEOS to establish and operate a hydrogen refueling station in close proximity to Woven City.
2) ENEOS to produce "green hydrogen," hydrogen derived from renewable energy, at the aforementioned station and to supply Woven City using stationary fuel cell generators to be installed within the city by Toyota.
3) Promote the use of hydrogen-powered fuel cell mobility for logistics in and nearby Woven City. Validate a base unit of hydrogen demand for those mobility logistics as well as build a supply and demand management system.
4) Conduct joint advanced research on hydrogen supply at the demonstration hub to be established within Woven City.
0